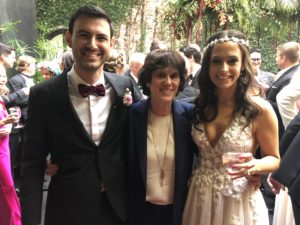 I officiated a wedding for a lovely Russian groom three years ago in Manhattan. His brother contacted me almost a year ago to say he wanted me to officiate this past July in Long Island City at the Foundry a wonderful industrial event space.
His meeting of the bride read like a movie script that could only take place in New York City. His bride was vacationing from Australia and went to a bar two nights before she was to return home. She met her husband to be there and after spending many hours with him changed her plane tickets. They saw each other constantly, and he flew to Australia to meet her parents.
Seven months after their meeting they decided to marry and I worked with them on the service. She was raised Christian and wanted her mother to do a reading from the New Testament as well as a Unity Candle. Her parents, siblings and dog flew from Melbourne and planned the wedding in short notice.
As evidenced by their beaming faces this one ecstatic couple. They plan to live here for the moment but Australia is not out of the picture. Where else but NY can a drink at a bar change someone's life?