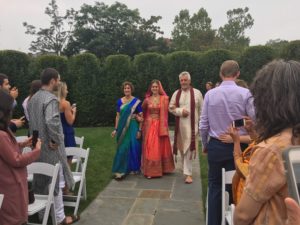 A year ago I was contacted by a couple that was referred by another bride and groom I married in the past. He was Indian, multi talented, being a lawyer, entrepreneur, and band manager all rolled up in one. She was Jewish, a world traveler, and yoga consultant to corporations.
We met at my apartment and started planning the service. I then met her mother who visited her from Florida and got to know another family member. The Groom's mother was deeply interested in having a traditional ritual Indian wedding and the Jewish family wanted a spiritual Jewish service as well.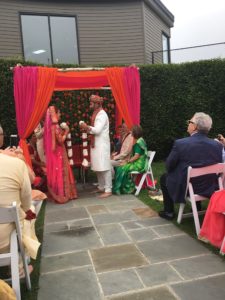 The couple decided that the Indian service would be in the morning with a Hindu priest officiating in English as well as using Sanskrit prayers. He would explain all the rituals in English. It would start with the groom atop a white horse coming to the venue and then dismounting and walking to the ceremony with his parents.
The Jewish service was humanistic with prayers over wine, thanksgiving prayer, and seven blessings. The benediction was given at the end and the glass was broken. I attended the Indian service in the morning and was able to incorporate what I witnessed into my service that afternoon. There were so many commonalities. The canopy Jews call a Chupah was a Mandap in the Indian service. They circled around as the Jewish 7 circles. The groom stepped on a clay pot in much the same way as the Jewish service has the breaking of the glass. And the parents sit under the mandap as the parents participate under the chuppah.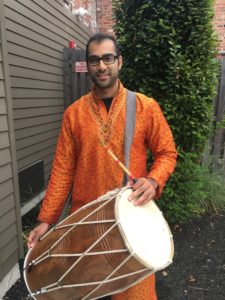 I was blessed to officiate this wedding and learn so much about the Hindu religion and service. The destination was Beacon NY which was picture perfect September weather. The day before I visited DIA Beacon, an amazing modern art museum and walked the beautiful country paths. How lucky I was to be a part of this wonderful weekend wedding!