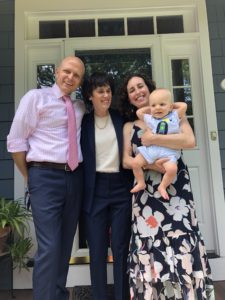 A couple called me Mother's Day weekend this year to ask me to officiate their son's naming. The rabbi who had been engaged to do the event disappeared on the couple and with invites out and date set they were looking for help.
I told them I was free on the June date, and we proceeded to have Facetime calls. The baby was named for the grandfather who had passed away within the year. We scripted a service and I drove out to a lovely suburban New Jersey town where family and friends gathered.
It was so warm and low key- service in the living room, brunch buffet in the open kitchen and seating on the patio. Add to it a beautiful June day and a smiling baby boy and it added up to a wonderful event.