Couples choose interfaith ceremonies for their spiritually inclusive approach.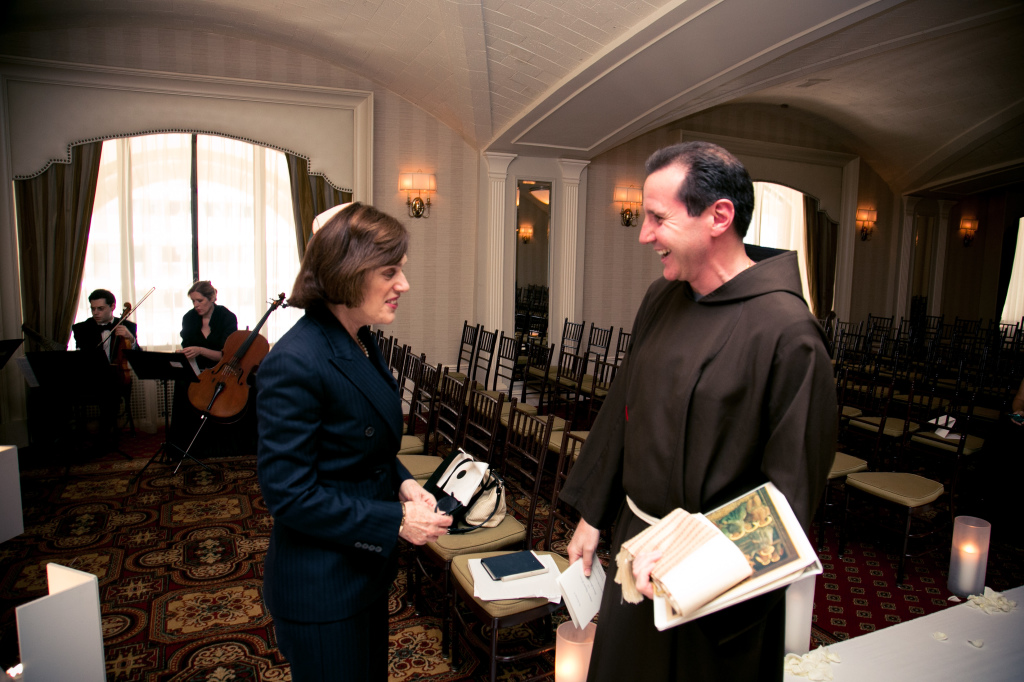 Therefore, it is a way of rejoicing in our differences and celebrating our communality in an atmosphere of love and respect. The strength of an interfaith ceremony is that it is inclusive. Above all, people should come away feeling honored and respected. An Interfaith wedding Rabbi will celebrate each person's uniqueness.
As an Interfaith wedding Rabbi, Rabbi Gloria thoroughly enjoys creating a very personal and original service for interfaith couples.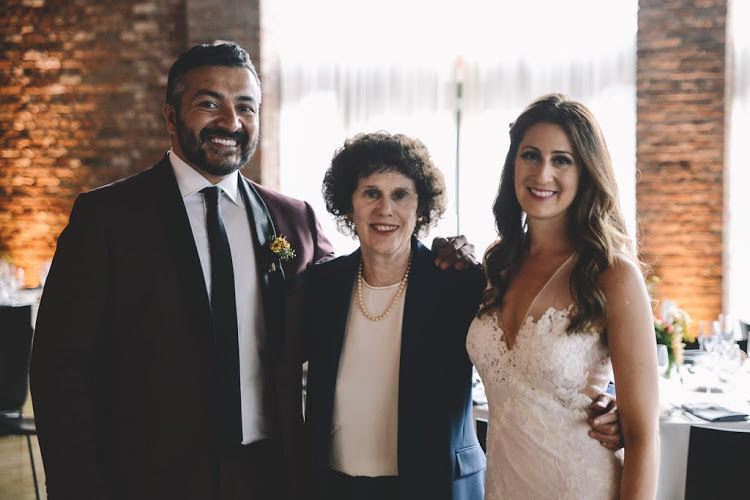 For example, she spends much time getting to know the bride and groom and researches the traditions and backgrounds of them both.
Rabbi Gloria will co-officiate with clergy of any persuasion to help bring differing traditions into one harmonious ceremony.
She has many contacts with such clergy if the couple needs help in finding another officiant. Rabbi Gloria has married people from backgrounds as diverse as the Philippines, Russia, Israel, and Nepal. Furthermore, she brings an open mind and open heart to her practice.
Rabbi Gloria is a New York City based Interfaith Wedding Rabbi. However, she has also worked with interfaith couples for their destination weddings.
To schedule an initial consultation, contact Rabbi Gloria or call 1-646-327-6307
---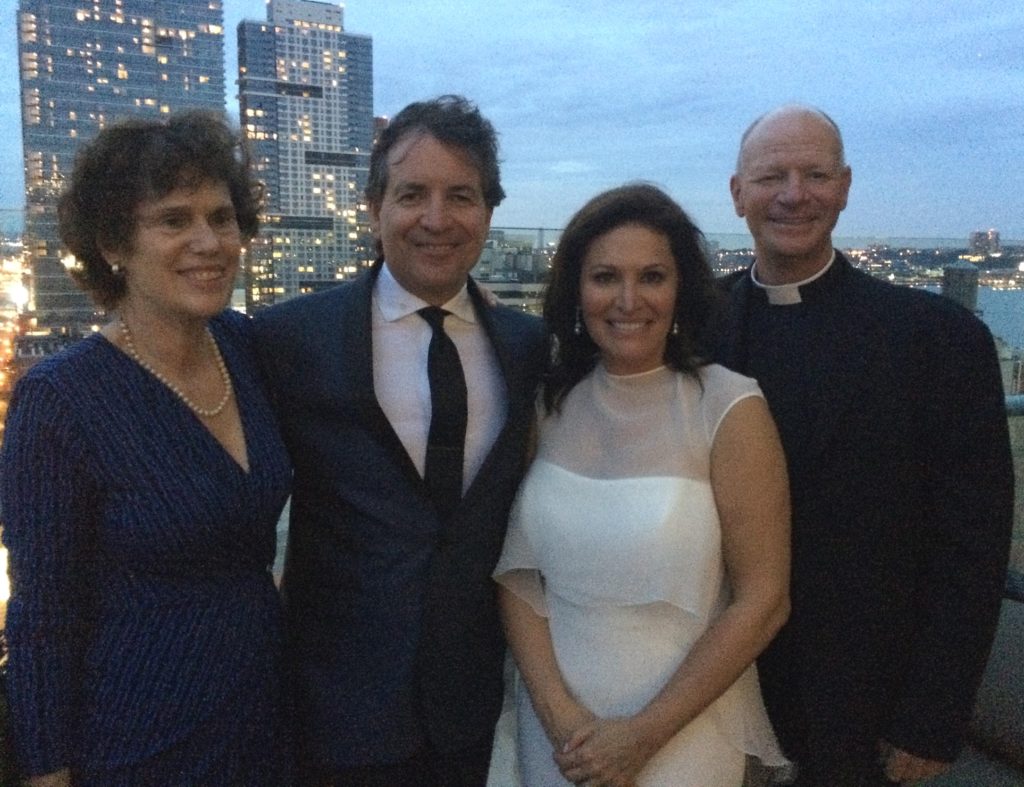 TESTIMONIALS FOR INTERFAITH CEREMONIES:
I am so grateful to the wonderful couples or parents that take the time to write to me after weddings.
Below are a few of these that pertain to interfaith ceremonies.
Many thanks to those who sent me these kind words!
---
Dear Gloria,
How do I begin to thank You?!! You were right by our side through the whole weekend. The cold and the weather did not disturb once Friday arrived. I felt the warmth and the Love through the whole weekend. Evan was so Happy to see You and Father Rocco on Friday night. You completed the night.
From the Ketubah ceremony and on to the wedding ceremony there was such Love.. Such Warmth. a Union of families coming together. You did an amazing job. There was not a dry eye in the room. Your explantation of the ceremony was both enlightening and enjoyable to all. So many comments about how beautiful the ceremony was. Thank you for giving us a very special memory and helping Tricia and Evan start there amazing life together as a married couple. Please stay warm, enjoy your grandson and your son. And especially your travels. Again thank you from the bottom of my heart.
My Very Best Always,

~ Ahuva
---
Thank you for making our wedding day as special as it was. Your creativity and thoughtful approach to orchestrating the ceremony made everyone feel included. This applies to both the Catholic and Jewish parts of the wedding day. More importantly, your guidance and energy made the process of preparing for the wedding educational and fun. We feel extremely lucky that we met you. We will always be grateful for the wisdom you imparted to us throughout the preparation process and on the wedding day. Thank you again.
~ Sam and Katie
---

Dear Gloria,
I want you to know how much it means to our entire family that there exists a "Rabbi Gloria Milner." I was so delighted that my daughter and son-in-law wanted to honor their respective traditions. The son-in-law's pastor agreed to work with them but embraced their desire to have a Jewish naming ceremony in addition to the christening he would perform. I did not realize how important it was not only to find an Interfaith Wedding Rabbi who was WILLING to officiate but one who would EMBRACE and CELEBRATE the honoring of two traditions. So…. Rabbi Gloria thank you for not only making this possible but for who you are a as a person and spiritual leader. I so wish there were more like you. You are a gift.
~ Alice
---
Hi Rabbi,
Thanks again for marrying us in such a beautiful and meaningful ceremony. Our guests commented on how truly special it was to witness, and of course it was even more special for us! We will remember it forever.
Best wishes!

~ Miri and Dave
---

Hi Rabbi,
We'd like to thank you from the bottom of our hearts for being instrumental to an amazing wedding day. We truly enjoyed the time spent with you leading up to the day and we appreciate the extra effort you put in, especially incorporating the Reverend into the ceremony. As further important life events come along, we hope to share those with you as well
with lots of love,

~ Elizabeth and Sterling
---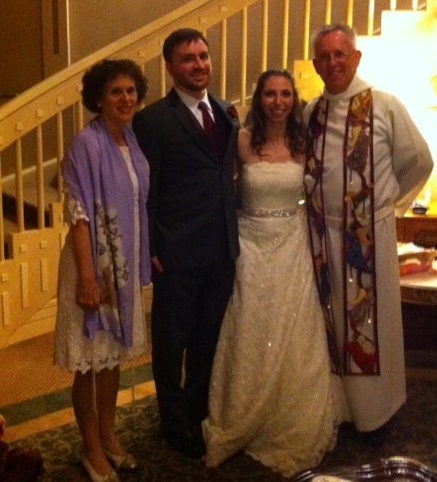 Hi Gloria,
Now that we are (unfortunately) 🙂 back from our honeymoon we just wanted to thank you very much for a wonderful service. Everything was absolutely perfect and everyone has been telling us that they loved the way you and Father Pat were able to work together and cover all aspects of a traditional wedding service from the Jewish and Catholic perspective. Should we hear about other couples looking for an Interfaith Wedding Rabbi to co-officiate a service, we will definitely be passing along your contact information to them.
Thanks again,
~ Matt & Kate
---
Thank you so much for helping us to create such a beautiful and intimate wedding ceremony. Your guidance, support and counsel throughout the process was invaluable. We appreciate all the time and energy you devoted to us through emails, over the phone and in person meetings. You were always thoughtful and respectful and had great ideas on how to incorporate the best of the Jewish and Catholic wedding traditions in our interfaith ceremony. We are so lucky to have found you and we look forward to a continued relationship with you. Our family and friends still rave about you and our ceremony.
~ Liz and Matt
---
Dear Rabbi Gloria,
We want to thank you for a wonderful ceremony. It was inclusive of both religions without making anyone feel uncomfortable and everyone who came up to me felt joyous as a result of your and Father Rocco's efforts. Thanks again for all you did.
~ Carol and Bob Faber
---
Dear Rabbi Gloria,
By far, the most important part of the wedding (in my humble opinion) is the ceremony. I mean, that is why the two of you are there – to pronounce to your family and friends that you picked each other from the whole wide world. And so, it was important to me to have an Interfaith Wedding Rabbi who not only represented "my Jewish side" but also would mold a ceremony that reflected the Jewish faith, respected the Christian faith and still stayed true to our respective values. That is not an easy job to do! You and Father Joe did a glorious job of putting together our different backgrounds and gave Matt and I the best present of all – we will always remember the warmth and happiness you and Father Joe pass on to us on our wedding day!
Thank you again!
Best wishes,
~ Renata
---
Ben and I want to thank you for all of the time, help and preparation you have given us in lead up to the wedding and likewise for leading an inclusive, family-uniting ceremony. I got numerous compliments that day about how wonderful and personal the ceremony felt and it is all due to your careful crafting and blending of new and old Jewish traditions. Even the Mormons in the group enjoyed the exposure to new traditions ( we got a "Mazel Tove" in the card from Ben's father and step-mother).
With much love
~ Ben and Sarah
---
My husband Antony and I were looking for an Interfaith Wedding Rabbi to marry us, one who would work with an officiant of another faith, as I am Jewish and my husband is Greek Orthodox. Rabbi Gloria Milner welcomed us, even at first phone call, with open arms. She worked so beautifully with our other officiant, taking the time to meet with him separately, as well as together with us. My husband was not very well-versed in the specific Greek wedding traditions, but it was very important to us that both of our faiths be represented in the ceremony.
At our first meeting with Rabbi Gloria, she presented us with a wealth of research she had done on Greek Orthodox wedding traditions. I was so touched that she had taken the time to do so, as no Greek Orthodox priest would marry us, and the priest we had found, though willing to do any service we liked, had never performed a specifically Greek ceremony. Our Rabbi had taken the time to get to know about my husband's faith, and that was so meaningful to us. We knew we already liked the Rabbi, but this gesture made me know for sure we had chosen right. Our meetings with Rabbi were casual and fun and filled with laughter, as we worked together to create a beautiful marriage of our two faiths and discuss the meaning of marriage.
On our special day, the ceremony was incredibly beautiful and presented with such spirit and love. Rabbi Gloria stayed with us and celebrated to the very end—dancing the hora and the Greek circle dance with us and toasting our happiness with our friends and family. So many guests remarked afterwards, "You had the coolest Rabbi ever!" And we both wholeheartedly agree. Rabbi Gloria is a special person and a magnificent officiant with great warmth, passion, and heart.
Thank you again for everything, Rabbi. You really helped make our wedding so incredibly special. And people still talk about how awesome it was how you danced and celebrated with us! It made the evening feel complete.
Best wishes to you in all you do!
~ Rebecca and Antony Konidaris
---
Thank you, again, for a thoughtful, meaningful ceremony we will never forget.
~ Jay & Nancy
---
And many thanks to Stuart for this nice comment to me in an email, after an interfaith ceremony he attended:
It's not only wonderful how you have brought Brides and Grooms together, but you have also brought families together and promoted understanding between cultures and religions.
~ Stuart