I recently had the good fortune to officiate an intimate, but spectacular interfaith wedding ceremony at one of the premier event spaces in New York City: Gotham at Broadway and 36th st.  It was, in its former life, Greenwich Savings Bank, built in 1922. It occupies an entire city block, boasting a spectacular domed stain glass window and dozens of Star of Davids on the ceiling, added by the Jewish builder.  It is the kind of place you see in the movies; set up with flowers, candles and decorated tables, it looked amazing.
The couple getting married came from different worlds.  The bride was a Jewish NYC woman brought up by sophisticated parents. She attended private school and grew up in an urban lifestyle.  The groom, on the other hand, hailed from a small town of 15,000 people, in Northern England,  where sheep were as common as the pigeons are in NYC.  They met in the airport on the way to an event in Cabo, in Mexico.  Working in Public Relations, she was covering the event for a magazine, and he was playing in a rock band at the same venue.  Their friendship began and seven years later they decided to make it official.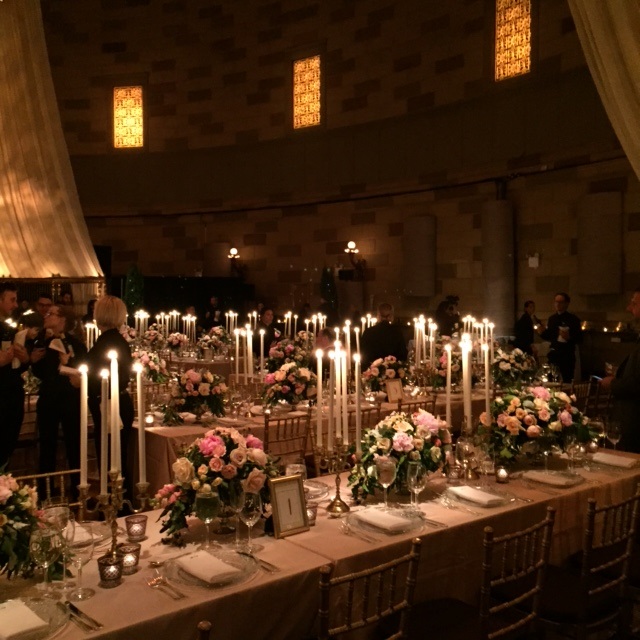 I enjoyed getting to know them.  They invited me to their apartment and we had an easy time over wine and cheese as I got to know their cat.  Then, we went on to my apartment for more drinks and cheese, and wrote the service. The bride's parents happened to live a few blocks from my apartment and invited me to dinner with them.  We fell into conversation as though we had known each other many years.  His parents came to NY a few days prior to the wedding and I met with them as well.  His stepfather was a Vicar in England and they had asked him to read from Corinthians during the service.  He had never met a woman rabbi just as I had never met a vicar.  All these meetings brought a personal feeling and intimacy to the service,  even though it was a large space with 250 people attending.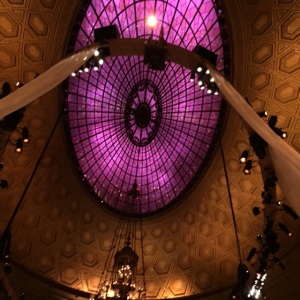 The capper was a Yiddish wedding song, "Tumbalalaika," which the groom's best friend (a  band member)  sang while they circled each other during the service.  I worked with his friend who was singing with the string trio.  Even though he was an accomplished singer, he welcomed my input. The result was moving and beautiful.
They invited me to stay for the star-studded reception and while I danced the night away, I thought how lucky I was to have such a personal glimpse into their lives and to welcome them into my life as well.