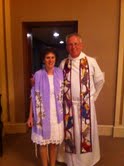 It was such a pleasure to co-officiate a wonderful interfaith wedding at the Dolce Hotel, in Basking Ridge N.J.   The couple, bride Russian Jewish and the Groom Catholic with some Russian blood came to me many months ago and asked if I would co- officiate with the groom's father's priest.  The father of the groom had attended this church for many years and it was important to have Father Joe present at the ceremony.  I agreed and right there in my apartment the four of us set out to create the service. We were able to weave together the unity candle and the Baal Shem Tov's (father of Hasidism) concept of light.  And when it came time for the Sign of Peace I spoke about the concept of Shalom which of course means peace in Hebrew but also involves a spiritual wholeness and peace of mind.
      We combined  "I am my beloved's and my beloved is mine" from the Song of Songs King Solomon from the Jewish tradition with the standard vows, "Do you take….."  .  Even the Lord's Prayer was said in the context of the prayers of all people for peace and well being.  Father Joe spoke of this sacred prayer to Christianity in the context of the Jewish religion.  Indeed he was a lively and warm person who was so easy to work with.  The audience and couple responded to our camaraderie and respect for one another.   We were relaxed, comfortable with one another and respected each other's part of the service
     The result a comprehensive and beautiful service that presented the best of both faiths in a loving way.  So many guests stopped us both after the ceremony to say how moved and delighted they were in weaving it together.  It takes, work, enthusiasm and  care, but  it will be the prototype for more that I will do.
Check out DolceBaskingRidgeCatering.com for wonderful service and attention day of that makes it look easy