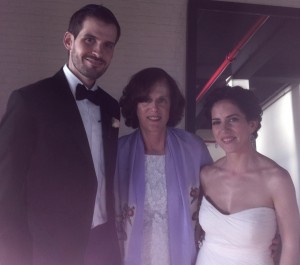 A magical interfaith wedding at which I officiated took place this July 4th in Red Hook, Brooklyn.  The Liberty Warehouse where it was held juts out into the water and faces the Statue of Liberty.  July 4th was the day the statue was reopened this year to the public, having been closed since Hurricane Sandy.
The couple's backgrounds made the statue an integral part of the ceremony.  Present at the wedding ceremony was the bride's 90-year-old grandmother, who had survived the Holocaust by posing as a Catholic Polish girl. She was put to work during the War in a munitions factory, and of course came to this country through Ellis Island.  She stayed here in America with relatives in America who took her in after the war.  On the other hand, the groom's U.S descendants dated back to 1684.  A relative on his mother's side was a signer of the Declaration of Independence. The two powerful threads of Freedom and Independence embodied both of these families.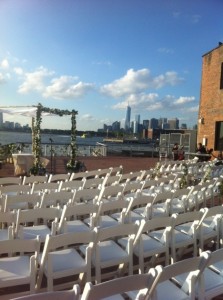 I met with the couple several times to prepare the service.  The bride gave me a DVD that her grandmother made from the Shoah Foundation; this was a fascinating account of her grandmother's life in a verbal history.  It was so inspiring to watch!  I learned that both the bride and groom were tremendous athletes and shared many common interests.  They had met in the laundry room of their lower east side building.  She was even teaching him Yiddish.
Performing the interfaith ceremony while the sun set on the Statue of Liberty I thought how blessed and fortunate I was to be a part of this incredible July 4th celebration of marriage and of life.
Watch a short video of Sarah & Bobby from Kiss The Bride Films.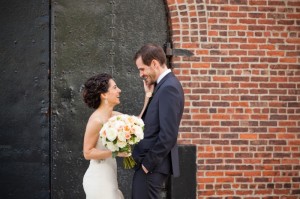 Also, check out the lovely wedding website on Carats and Cake.com
And here is the website of the brilliant event planner, "Ang Weddings and Events,"  a boutique event planning company founded by Tzo Ai Ang and based in New York City.  Ang Weddings and Events