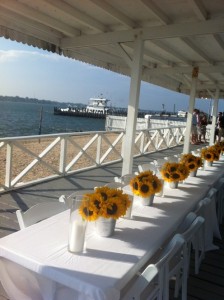 A rabbinic colleague of mine recommended a couple to me, who were planning their interfaith wedding ceremony for the end of June this year. They were currently living in Michigan, but had met in college in the East, on the first day of sailing tryouts their freshman year.  Both had boats and sailing filled a great deal of their pasts. 
Starting off as very good friends, it soon developed into love, and they moved out to Michigan where he had grown up, and where his family still lived.
A Shelter Island Wedding
The bride's grandmother owned a house in Shelter Island where she spent summers sailing so it was a natural and wonderful idea to hold the wedding there.  The couple used an amazing house and grounds belonging to one of the grandmother's friends.  Perched high on a hill overlooking the water, the house was nestled in many acres of grassy lawn with beautiful trees surrounding it.  The ceremony and chuppah faced the water; this wedding was simply one of the most picturesque I have ever been fortunate enough to officiate.  A tent was set up for the reception and a wonderful band entertained.
The bride's and groom's mothers had become best friends through their years of courtship, even vacationing together.  When I spoke of the two traditions and families blending together I offered this actual proof  as it was embodied in their relationships. This warm and generous family extended their hospitality to me, inviting me to both the rehearsal dinner and the reception.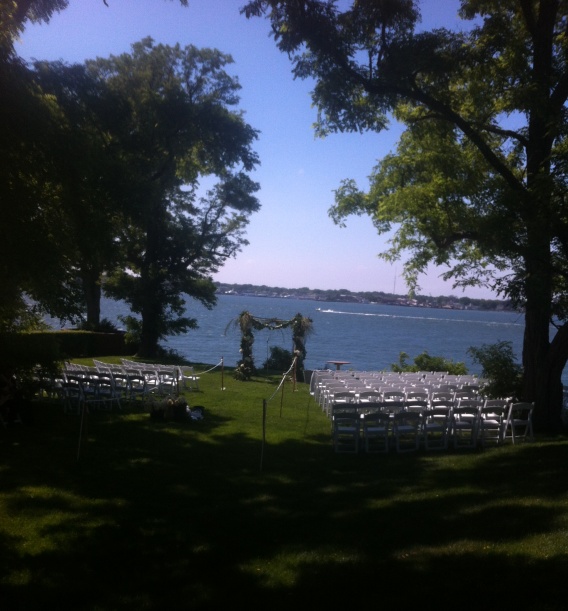 The picture I feature here, below,  is of the grandmother and her boyfriend shows up her prior model features and her striking beauty.  She and her new boyfriend had both lost spouses of 50 years and clearly were in love.  This combination of older and young love made this a particularly magical and touching wedding.