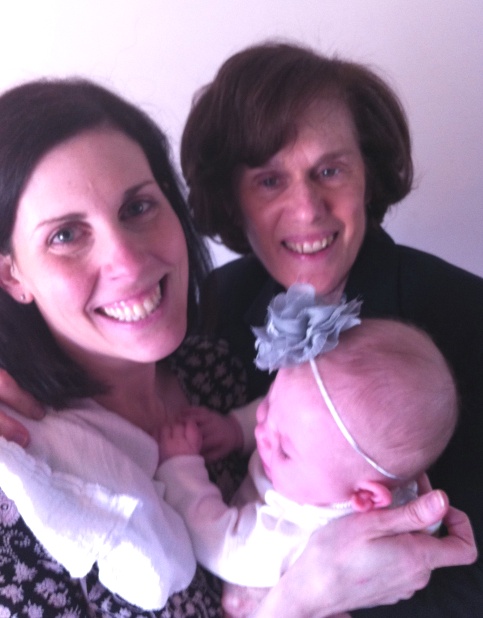 I love to see my brides and grooms having children!    
     I  officiated at the interfaith wedding, two years ago, of two lawyers. One was brought up Catholic, the other one Jewish.   I co-officiated with a wonderful Catholic priest, Father Tom who had been the family priest.  We worked on the service with the bride and groom and it was warm, witty and personal.   Even the day's weather cooperated at sunset on a rooftop in Tribeca.  I got to know both sets of parents and felt that the families welcomed me into the event.
    How amazing it was when I received the email from the bride that she had a little girl some months back and wanted me  to do a baby-naming ceremony  with the priest.   It was Father Tom and I again at a historic building in Park Slope this winter.  We had the opportunity to plan an interfaith baby-naming and it was my first one.   I visited the couple who lived in a  former church converted into a condo in Brooklyn.  The sun through the stain glass windows and the soaring ceilings made it a  magical  place.  They had much input deciding to do blessings themselves and give honors to their parents and grandparents.  Tom and I filled in the blanks with prayers and blessings ourselves. The ceremony was enjoyed by Emily their daughter of seven months. She didn't cry through the whole thing, so I guess we did something right.  
     I find myself fortunate to connect with my past brides and grooms and  be at these wonderful events of the next generation they have produced.  The fact that another officiant can work with me to produce a spiritual inclusive service is something  I am proud of.