Last year I officiated an interfaith wedding in Montauk at Gurney's Inn on the ocean.  The bride and groom chose me and a minister to preside and it was a beautiful and spiritual ceremony.  In the audience was the bride's first cousin who was living in Brooklyn expecting a baby in several months.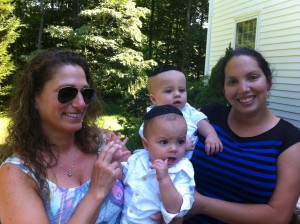 This summer I received a call from this new mother, who was moving to Connecticut where her now one-year-old twin boys could experience the outdoors and enjoy proximity to the water.   She asked if I would create a baby-naming ceremony for little Everett and Sam.
I visited her and the boys in Brooklyn and learned a great deal about the family and the twins' different personalities.  I traveled by train up to New Haven a few weeks ago and was picked up and whisked off to their new home, under renovation. We set up the service on the front lawn.  
The first cousin I married in Montauk was present as were her parents.  I felt like a part of the family and we all participated in the Shecheyanu and Kiddish prayer. Then I asked for blessings which were spontaneously given by the 12 people in attendance. After the service, we all ate together and watched the kids play.
How lucky am I to be a part of such wonderful occasions with people with whom I share a history?