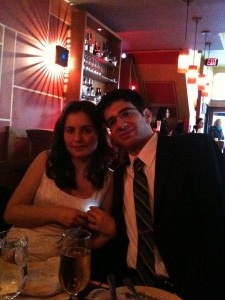 What would you say about a Muslim Turkish bride marrying an orthodox Jewish groom on the balcony overlooking Mets stadium? Only in New York folks, only in New York as the New York Post loves to say. Beyhan the bride had come here to study for her MBA and worked at Starbucks to support herself. There she meets Michael the manager of the Starbucks and they start a relationship. He was most admiring of her independence to leave all her friends and family in Turkey and come here by herself to embark on a new life. He was also impressed with her beauty- both outside and in.
He had grown up in Long Island playing baseball and talking sports with his friends from the time he could speak. The first thing he did when he came home from school was log on to the Mets website to get the latest stats, scores or trades. As he grew older he and his friends followed the team to such cities as Pittsburgh and San Diego. This is one zealous fan. He decided he wanted to be married on the balcony overlooking Citifield and Beyhan agreed.
We wrote the service together, the three of us and one of Beyhan's friends who is Ecuadorian, walked her down the aisle. Michael used a family Kiddish cup and all parts of the Jewish wedding ceremony were included. We found a wedding poem by the Arab poet Rumi that spoke about creation and Jacob and Joseph. Amazing what commonality one can find in different religious traditions.
They hoped for a picture perfect sunny day but it was windswept and rainy instead. That did not dampen anyone's spirits and prior to breaking the glass we all yelled"Play Ball."