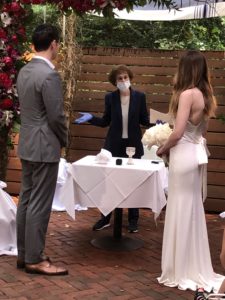 Several months ago I received a call from the mother of a bride who was organizing her daughter's wedding. They had selected a small Italian restaurant in Chelsea that had a garden to accommodate the 70 guests. I met with the couple in my apartment and sketched out the service.
Then came Covid and of course that restaurant, like all others in Manhattan, closed in March. I heard from the mother again a month ago to say that the couple wanted to go check with the date 6/27 but the guest list was relegated to two sets of parents, bride, groom and me. The garden was perfect for social distancing and putting up a chuppah.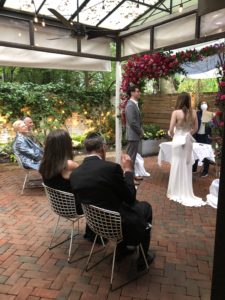 The day of the wedding dawned and several sets of thunderstorms were predicted. Fortunately the garden had an overhang, and we could sign the civil license and Ketubah using the shelter of the overhang while rain hailed down. The parents read several Hebrew blessings and the bride and groom wrote their own vows. I talked about how wonderful to make this happen for the couple.
It all felt normal except for mask and social distancing. The restaurant provided a bottle of champagne and the bride bought a wonderful cake.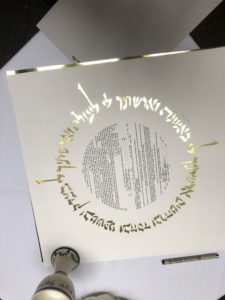 They live-streamed the service to their 70 friends and plan to have the reception when it is safe to do that. Otherwise, it was among the most intimate and warm services I have prepared.