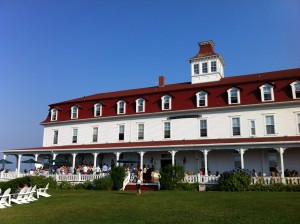 A couple, one from the Catholic faith and the other Jewish had vacationed together on Block Island for years.  They met in high school, dated throughout college and decided after taking "time outs" along the way that they were right for each other.  I met with them a number of times at their apartment and mine in Manhattan.  We constructed the service, talked about marriage and religion for their children.  They wanted  a Christian co-officiant and  I was successful in reaching out to a Pastor on the island.
      We crafted the service for this interfaith wedding with the pastor on a four-way conference call and I knew it would be special.  He was a Princeton graduate who had been raised by missionary parents doing their work in Japan.  His spirituality was in his blood.  He even let me practice my classical piano for a recital on the baby grand piano in his church.
      Block Island is a charmer off the coast of Rhode Island.  It is family-friendly, and small enough to be negotiated with moped or bicycle.  Ferries are the only means of transportation there which discourages people from bringing cars.  The old Victorian Bed and Breakfasts and grand hotels dot the bluffs and town streets and the Spring House Hotel, where we were, was wonderful.  The beaches are pristine and beautiful and the weather hot and perfect for swimming.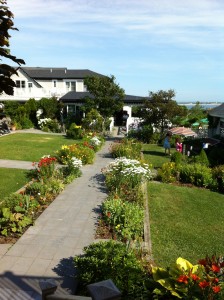 The service exceeded my expectations.  The Pastor and I locked arms and walked down the aisle together setting a communal tone.  He started off talking about religious freedom in Rhode Island and of the oldest synagogue in America located in Newport.  I wove in the Jewish prayers, including circling and the Seven Blessings.  He spoke about the Book of Ruth- an intermarriage that led to her descendant, the famous King David.  I read some pieces the bride and groom had written about each other and tears and laughter filled the audience.  This all took place in a gorgeous historic inn on the grass overlooking the water.
How lucky I was to have been to officiate in paradise and meet some wonderful new friends .  After the service one man came up to me and said "you should be on television, the two of you together are magical."  How much better could the praise be?
Check out the wonderful catering deparment and Danielle an enthusiastic and organized wedding planner at the hotel.   I can highly recommend her.  You can reach her at www.Danielle@SpringHouseHotel.com