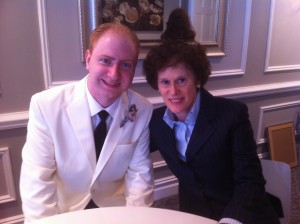 As a Rabbi  I was asked by the bride to officiate at her affirmation of vows almost a year ago.  She had already been married civilly and was living with her now husband in Long Island.  They took it upon themselves to get married and be independent of family but were ready now for a larger, more public ceremony.  The bride had been raised in a Jewish home and was looking to get in touch with her roots.  The groom (shown here) was of Christian background.  Indeed the other officiant was a minister who had a parish in Long Island.
     The couple came to my apartment a few times and we spoke about the ceremony and Judaism.  I ended up giving her a menorah and Kiddish cup to help them celebrate the holidays.  They were most appreciative and were counting the days to the big event.  I arrived and met with the other officiant.  He had done very few interfaith ceremonies and was very warm and accepting of my taking the lead.  He was going to do a reading, blessing of the rings, and a benediction.  But his manner was open and I felt that we were of the same mind and had much commonality of purpose and spirit.  Indeed as the ceremony continued he and I were helping one another and people later remarked it seemed as if we had worked together before
     As a rabbi that frequently co-officiates, this wedding embodied the best of both faiths with a minister who was reaching out to make all involved  feel comfortable.  He didn't view this as a competition but as a sign of love and commitment to the couple and to me.   That is how I felt it was truly magical.
     Peace and Blessings to you   Rabbi Gloria