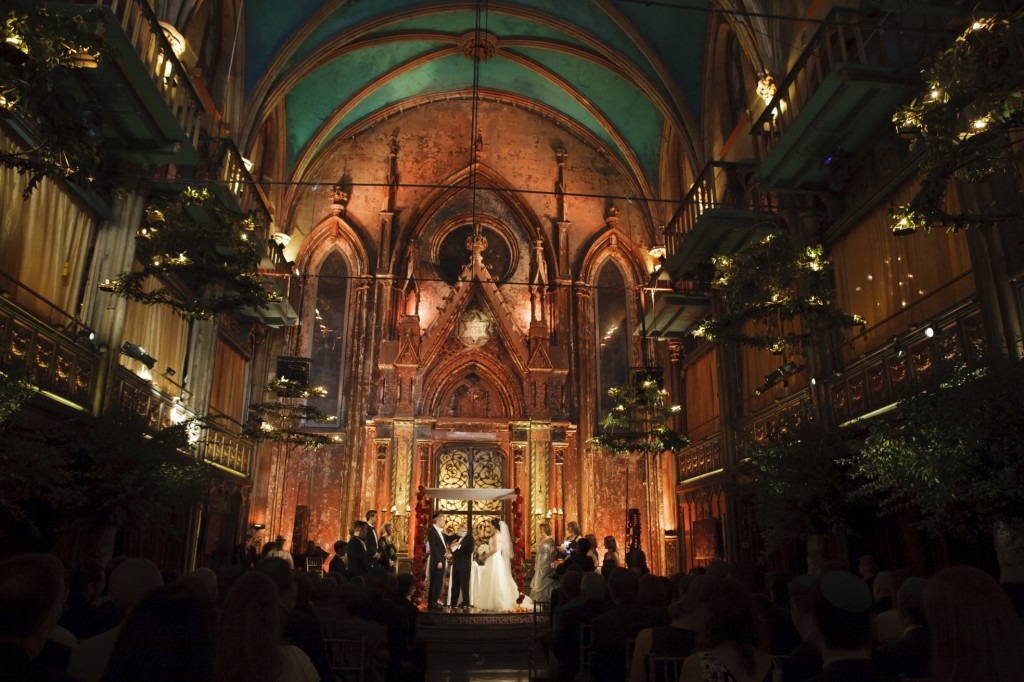 Angel Orensanz is an 1850's German synagogue on the Lower East Side of NYC.  It was a working synagogue until the 1970's when the drug dealers and homeless occupied it.  Two brothers many years later bought the structure and restored it to its former glory.  Many celebrities such as Sarah Jessica Parker had their weddings there.  Whitney Houston recorded there and a Smash episode of a Bollywood dance hall was filmed there.  Imagine my surprise when a couple who lived on the lower east side a block away had told me they reserved this space a year ahead and wanted me to officiate the synagogue wedding.
     He was  a New Yorker and she was of Russian descent.  They had to bring in all the food and tables and chairs.  They selected great Russian food from the Cabaret/Supper Club Rasputin in Brooklyn and Bar B Q from a vendor in Manhattan.  It turned out to be a magical combination of tastes and colors.  They also selected a Klezmer band that walked down the aisle after the glass was broken reminiscent of the small village weddings in Eastern Europe.  And the space was soaring with room for three balconies and a capacity of 800 people.  When the lighting was on it transported those there into another realm (see the picture). 
     I visited them in their apartment and we fashioned the service so that all their relatives and friends could participate.  Seven different people read the Sheva Brachot (7 blessings) in Hebrew and English, the groom's grandmother read a touching poem,and the bride and groom created their own personal vows.   I felt like I was the facilitator of an amazing event that many people shared in.  I can only say how privileged i was to be introduced to this venue by the couple and hope to preside there again.