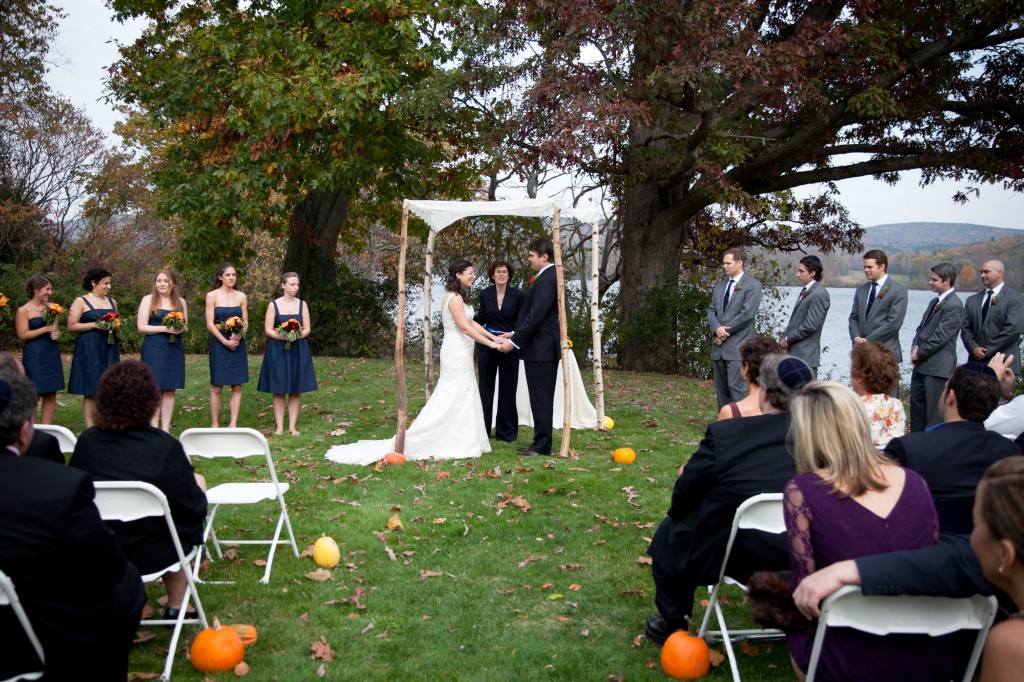 Two Cornell law school graduates contacted me almost a year ago to plan their Jewish fall fantasy wedding for October this year.  They met at the law school and both were enamored of the fall season particularly beautiful upstate New York, where there is colorful foliage, apple picking, pumpkins and crisp clear air.  They planned to have the wedding near Cornell, near the Finger Lakes. 
     We met at their Hoboken apartment  and I was introduced to their dog-child: an adorable Welsh terrier who was to walk down the aisle.
     Since I enjoy destination weddings, I came up the day before their ceremony and helped with the rehearsal.  The groom, from Tennessee, had many relatives there already.  They had rented a lovely house for family to stay in and did the rehearsal in the back of the house.  Afterwards the rehearsal  dinner reminded me of my own college days with large amounts of pizza and beer to go around.
     The day of the wedding was unseasonably  warm – over 70 degrees – and all the trees glistened in the sun's rays.  They had picked a venue: The FountainBleu Inn, which was a lovingly restored, 1815 country inn with authentic antiques and beautiful grounds.  The wedding was on the grass overlooking a lake.  The chupah and chairs faced the water and a panoply of multicolored trees.  The bride planned every detail of this herself while working at a high pressure law job in NYC.  How amazing was that?
     When it came time for the bride and groom to do their vows they prepared speeches about themselves.  The words spoken to each other were so moving and heartfelt that both bride, groom and audience were reduced to tears.  We also did the Hebrew vow from the Song of Songs King Solomon.  There were readings, circling in the Jewish tradition and breaking the glass.  They danced up the aisle after the end of the ceremony and frolicked with their dog on the acres of grass.  We were treated to a beautiful sunset  as well.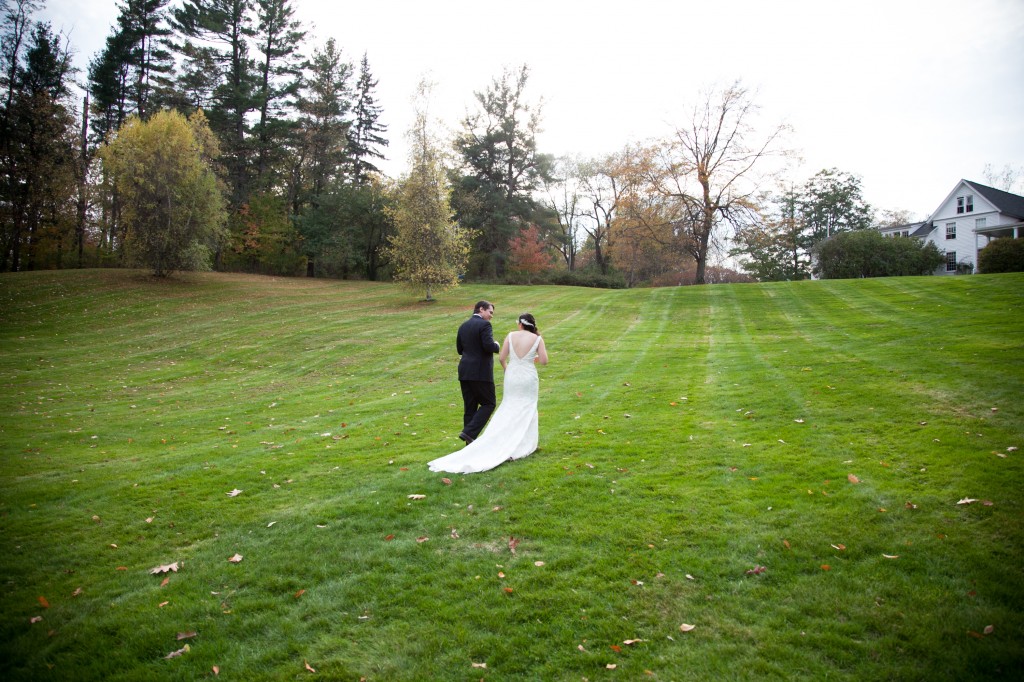 I stayed for a wonderful reception.  Lots of dancing and warmth abounded.  The groom danced with his mother to L0uis Armstrong's "It's a wonderful world" which for this day in time it certainly was.  They even treated me to a stay at the Inn on Columbia, an amazing upscale restored home with an owner who was my personal chef the morning after.  Regretfully I left to return to NYC.
     ~     ~     ~     ~     ~
The pictures above were taken by the wedding's wonderful photographer, Anna Simonak. Many thanks to her for the use of these shots!
You can see her beautiful work here: Asimonak.smugmug.com