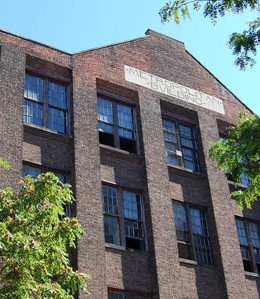 A wonderful couple came to see me about their fall wedding this past year.  She was of Russian descent and he was from a Midwestern family with roots in the states.  I learned that at the time the bride's parents were married in Russia they had to do so in secret in a basement.  Religion was banished by the government and they wanted a Jewish ceremony   They came to this country and her father is now a violinist with a symphony orchestra.  Her mother is a cultured and very stylish French teacher.
The venue selected was the Metropolitan Building in Long Island City.  It is a turn of the century factory that was renovated but all original flooring, moldings and  grand  ballroom like spaces kept intact.  It overlooks the East River.  I especially liked the antique furniture that was placed there by the owner a former antique dealer.  The bathroom held a claw footed bathtub, more like a boudoir than a public rest room.
I co officiated with a priest who is charming and funny.  We worked seamlessly as a team and at the end of the service he took my hand and we walked down the aisle together.  The  guests cheered us .   The bride's violinist father played when the couple was circling each other as is a Jewish custom.  A friend of the couple's sang the Sheva Brachot in magnificent voice.   It was so wonderful for me to watch the bride's parents' faces beam at this grand event.  No small basement room wedding but 150 guests toasting
What made the wedding more dramatic was the day of the event there was a freak NYC snowstorm.  The weather should have been autumn perfect as the trees were in full splendor of oranges and golds.  Instead a fierce Noreaster blanketed the city with several inches of snow.  I trudged to the affair in winter boots and heavy ski jacket to protect me from a gale like wind.  I changed clothes in  the antique bathroom and heard guests telling of their adventures getting to the wedding.  Since most of the bride's parent's friends were from the West Coast they hadn't brought very warm clothes.
So what do Russian people do to celebrate a joyous occasion and keep warm in the winter?  Drink vodka, eat blini and toast away the night.  We all did just that.  It will be a memorable wedding for all to remember in many ways.