A Baseball Wedding!       
A Jersey guy and a girl from Florida met at a bar in Atlantic City that he was managing at the time.  The Yankees were usually not on the TBS network, but were that night in the bar. She stayed to watch because they were being shown.  The rest as they say is baseball history.  
They went to a game on their first date and continued their romance via bus from NYC to Atlantic City on the Greyhound.
 He proposed during the 6th inning of a Yankee game and they and their friends all went out afterwards to celebrate.  
This wonderful baseball wedding was held on a beautiful rooftop of the Brooklyn Sheraton.  While the day was overcast, by evening, when the ceremony took place, the sun shone and we were treated to a phenomenal sunset.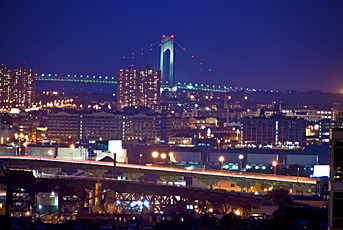 In keeping with the baseball tradition his good friend carried his own child who carried a baseball mitt in one hand. In the mitt were – you guessed it – the rings!  The child was the ring bearer.  
At the end we all yelled "Play Ball."  A very happy ending to this "game " of love.